Submit your film now for a chance to win 2,000,000KRW & have your film shown at Lotte World Cinema!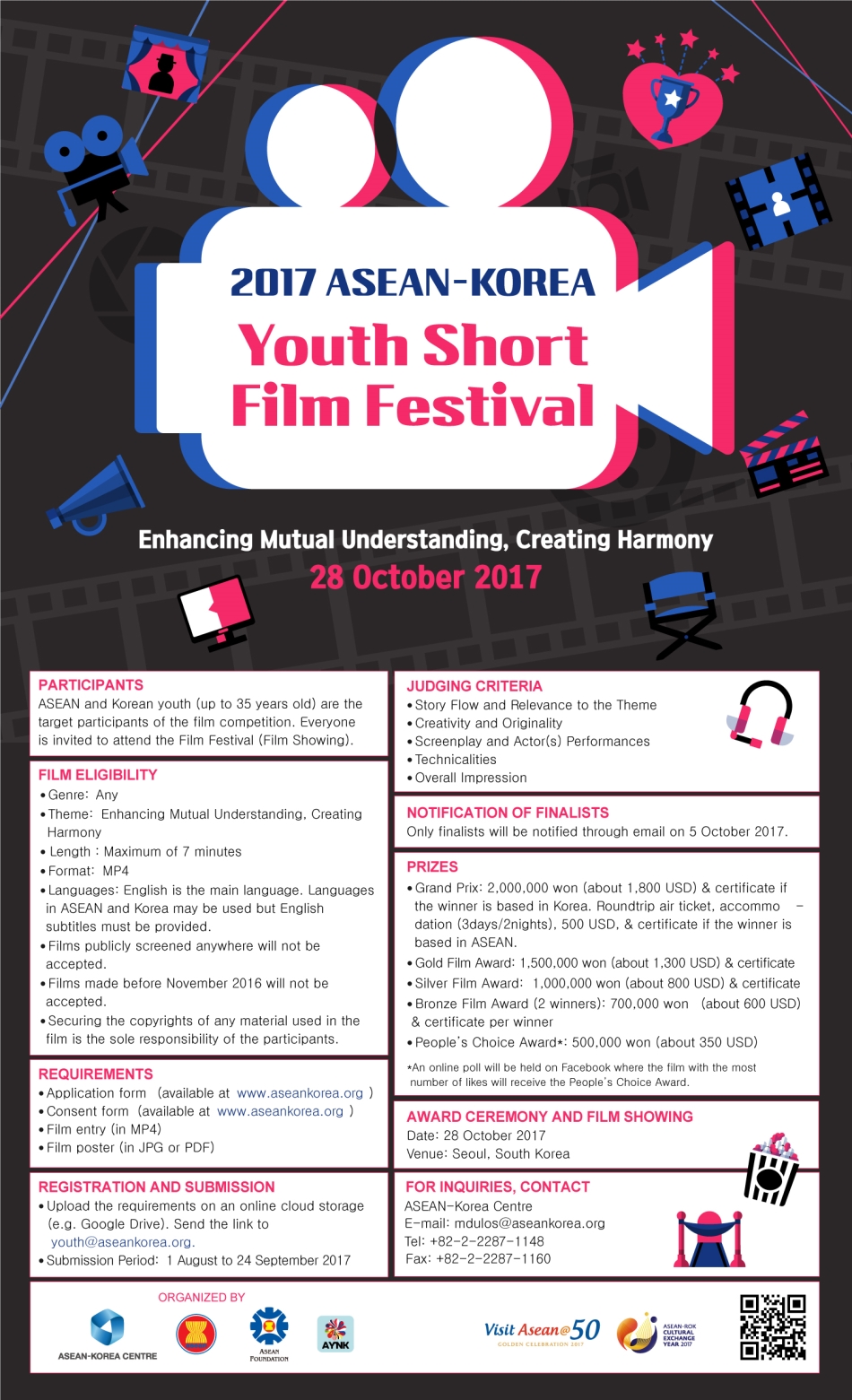 2017 ASEAN-KOREA YOUTH SHORT FILM FESTIVAL
Enhancing Mutual Understanding, Creating Harmony
BACKGROUND
Films are generally regarded not only as a form of entertainment but also as an effective medium to understand other cultures, foster open minds, and change one's perceptions. Hence, many film festivals are held for raising awareness and promoting culture.
For ASEAN, film festivals are one of the approaches to showcase ASEAN to the world, as indicated their Socio-cultural Community Blueprint 2025. In this regard, several institutions and organizations have made effort towards holding film festivals across the region. For instance, endorsed by ASEAN Secretariat as one of the ASEAN joint activities, ASEAN International Film Festival and Awards (AIFFA) is a premier film festival which made its debut in 2013. Held in Kuching, Sarawak, Malaysia, this biennial film festival shows and give awards to films that help promote culture, tradition, and heritage towards united ASEAN.
In addition, the Ministry of Culture and the National Federation of Motion Pictures and Contents Associations of Thailand organized the Bangkok ASEAN Film Festival 2016 (BAFF 2016) to celebrate the launch of the ASEAN Community. BAFF 2016 featured films that reflect the society, thoughts, and attitudes of each ASEAN country.
As a key partner of ASEAN, Korea has been supportive of the region's commitment to fully realize the aspirations of the ASEAN Community Vision 2025. In the ASEAN-ROK Plan of Action to Implement the Joint Declaration On Strategic Partnership for Peace and Prosperity (2016-2020), it is outlined that mutual participation in International Film Festivals that are held in ASEAN and the ROK should be encouraged and that exchange of popular culture through instruments such as films, TV programmes and print media should be increased.  Also, prestigious international film festivals in Korea such as Busan International Film Festival and Seoul International Women's Film Festival have included films from different ASEAN Member States in the recent years.
As a channel in creating a long-lasting partnership between ASEAN and Korea, the ASEAN-Korea Centre is organizing the 2017 ASEAN-Korea Youth Short Film Festival to raise awareness of the ASEAN among the general public of Korea as well as showcase and nurture the talent of ASEAN and Korean Youth in filmmaking.
OBJECTIVES
● To raise the awareness of the ASEAN among the general public by film showing
● To nurture the talent of young ASEAN and Korean filmmakers through competition
ORGANIZER
● ASEAN-Korea Centre, the ASEAN Secretariat, the ASEAN Foundation, and the ASEAN Youth Network in Korea will organize the event.
THEME
● Enhancing Mutual Understanding, Creating Harmony
PARTICIPANTS
● ASEAN and Korean youth under the age of 35 are the target participants of the film competition. For the film showing, everyone is invited to come.
LANGUAGE
● English is the main language. Languages in ASEAN and Korea may be used but English subtitles must be provided.
PROGRAM ACTIVITIES
● Screening and competition of films
● Awarding of outstanding film entries
● Screening of ASEAN videos
MECHANICS
● Film Eligibility:
a. Genre: Any
b. Theme: Enhancing Mutual Understanding, Creating Harmony
c. Length: Maximum of 7 minutes
d. Format: MP4
e. Films publicly screened anywhere will not be accepted.
f. Films made before November 2016 will not be accepted.
g. Securing the copyrights of any material used in the film is the sole responsibility of the participants.
● Requirements:
a. Application form (available at www.aseankorea.org)
b. Consent form (available at www.aseankorea.org)
c. Film entry (in MP4)
d.Film poster (in JPG or PDF)
● Registration and Submission:
a. Upload the requirements on an online cloud storage (e.g. Google drive). Share the link with youth@aseankorea.org.
b. Submission Period: 1 August to 24 September 2017.
● Judging Criteria:
a. Story Flow and Relevance to the Theme
b. Creativity and Originality
c. Screenplay and Actor(s) Performances
d. Technicalities: Camera/Sound/Lighting/Editing
e. Overall Impression
● Notification of finalists:
a. Only finalists will be notified through email on 5 October 2017.
● Prizes:
a. Grand Prix: 2,000,000 won (or equivalent) and certificate if the winner is based in Korea.
Roundtrip ticket, accommodation (3days/2nights), 500 USD, and certificate if the winner is based in ASEAN.
b. Gold Film Award: 1,500,000 (or equivalent) and certificate
c. Silver Film Award: 1,000,000 won (or equivalent) and certificate
d. Bronze Film Awards (2 films): 700,000 won and certificate
e. People's Choice Award*: 500,000 won (or equivalent)
*A Facebook/Youtube event will be held where the video with the most number of likes will receive the People's Choice Award.
AWARD CEREMONY AND FILM SHOWING
● Date: 28 October 2017
● Venue: Seoul Global Culture Center
CONTACT
● Information and Data Unit at ASEAN-Korea Centre
Tel: +82-2-2287-1148 / Fax: +82-2-2287-1160
E-mail: mdulos@aseankorea.org
Comments
comments